About Us
The Boatyard Grill ...Waterfront Restaurant Ithaca NY State, is a vibrant American bar and restaurant on Cayuga Lake. Enjoy dazzling waterfront views, dynamic & vibrant energy, live wood grilled steaks, fresh seafood, burgers, sandwiches and more. You'll feel welcome for all occasions whether you are having an intimate dinner, a business meeting, a family celebration or you just stepped off your boat for a casual weekend brunch. The seasonal outdoor dining and lounge areas draw you into a unique setting to socialize, savor, and soak up the gorgeous Cayuga waterfront. During the summer months, we turn it up a notch with outdoor live music, cocktails and dancing! Or just sit back and relax with a cocktail and snack in one of our Adirondack chairs surrounding the outdoor fire pit. Have a large group? Become a legendary host when you invite your guests to a beautifully decorated, private tent event on our outdoor patio.
Located on Inlet Island next to our working marina, The Boatyard Grill is just one mile from The Ithaca Commons, and is part of the Cayuga Waterfront Trail with walking access to Cass Park, The Ithaca Children's Garden, The Ithaca Farmer's Market and much more! Walk, bike, drive or boat in to The Boatyard Grill -- we're looking forward to serving up a warm welcome and unforgettable experience!
BoatYard Grill Gift Certificates are available in any denomination.
Purchase at the restaurant or over the phone during regular business hours at (607) 256-3619.
Employment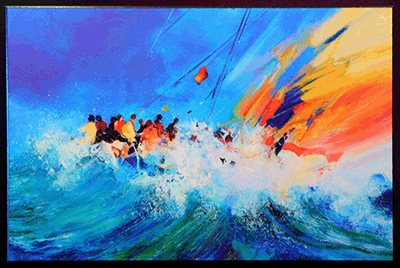 We are looking for friendly, energetic, dedicated people to continue providing the quality food, service & atmosphere that people have come to expect. We feature a highly structured training program which aims to provide hospitality professionals with the necessary tools to prepare them for years of lucrative and rewarding employment. Candidates should be committed to working a minimum of three shifts per week and be available to work until closing and over weekends and college breaks. If you are interested in employment at a high energy, fast-paced, fun restaurant, please contact us: managers@boatyardgrill.com.
We are always on the lookout for friendly, energetic people to fill the following positions:
Line Chefs
You're the backbone of the restaurant. Where would we be without your culinary skills? Some experience is required, but we'll work to make you an expert. Be a part of our fun, fast-paced, professional environment.
Servers
If you are highly motivated, energetic, and can make your customers smile, we're looking for you. Experience preferred, but if you possess good communication and organizational skills and enjoy working with people, we'd like to meet you.
Bartenders
Are you a true expert in mixology and looking to further your career? Help us entertain our guests at Ithaca's most popular waterfront grill. You'll be well paid and well known.
Busser/Service Assistant
Whether you're looking to get started in the restaurant business or you've mastered the bussing trade, we've got a plan for you. We're looking for outgoing people, who are quick on their feet, to help us deliver top rate service.
Greeters and Seaters
If you're a real people person and can make a good first impression, we're on the lookout for you. Experience preferred but we'll teach high energy people who are willing to learn.
Dishwashers
We can't function without you! No experience is required, but you must be willing to learn and feel comfortable working in a fast-paced environment.