SHAREABLES
SPICY TUNA ROLL
Hand rolled sushi $10.95
CRAB CAKES
Charred onion remoulade, old bay chips $11.95
SEAFOOD SPLASH DOWN TOWER
Shrimp cocktail, steamed clams, fried calamari $17.95
HUMMUS & GRILLED PITA
Peppadews, toasted pecans, kalamata olives $9.95
BUFFALO CHICKEN EGGROLLS
Served with bleu cheese dressing and celery $10.95
SPINACH & ARTICHOKE FONDUE
Served with corn tortilla chips $9.95
MARGHERITA FLATBREAD
Plum tomatoes, fresh mozzarella, basil $8.95
COCONUT SHRIMP
Sweet chili-lime glaze, fresh cilantro $11.95
FRIED CALAMARI
Arrabiata, chipotle aioli, fresh lemon $13.95
Salads & Soups
CLAM CHOWDER
$3.95 / Bowl $5.95
FIVE ONION SOUP
$5.95
ROASTED BEET
Spiced cabernet glaze, Lively Run goat cheese, mixed greens, sunower seeds $10.95
COBB
Mixed greens, roasted corn, tomato, avocado, blue cheese, egg, bacon, tarragon vinaigrette $12.95
CAYUGA CRUNCH
Color crunch kale, chopped walnuts, red onion, NY sharp cheddar, cinnamon crisp apple, red grapes, maple vinaigrette $11.95
CAESAR
Toasted croutons, shredded Parmesan $5.95/$9.95
ICEBERG WEDGE
Crispy bacon, creamy blue cheese dressing $5.95
MIXED GREENS
$5.95

ADD CHICKEN $3 or SHRIMP $5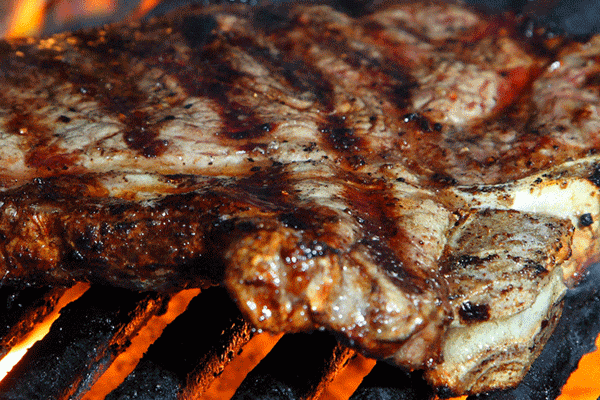 SIRLOIN $19.95
RIBEYE $29.95
NY STRIP $25.95
FILET $29.95
CHOOSE ANY SAUCE:
MAKER'S MARK BOURBON
HOUSE-MADE WORCESTERSHIRE
HORSERADISH CREAM
BLACK & BLEU

ALL STEAKS SERVED WITH MASHED POTATOES & FRESH VEGETABLE
"SURF & TURF" STYLE - ADD LOBSTER TAIL $15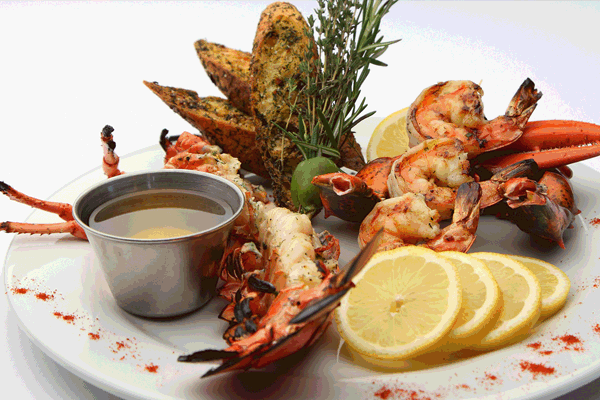 FRESH FISH
SALMON $22.95
TUNA $22.95
MAHI MAHI $21.95
SHRIMP $19.95
CHOOSE ANY PREPARATION
PAN ASIAN
Mushroom ginger broth, sesame-roasted mushrooms & peppers, spinach, sticky rice
CREOLE
Cajun vegetable sauce, white rice
GO NAKED
Olive oil, lemon, fresh herbs, rice, fresh vegetable
MANGO SALSA
Sweet potato mash, black beans
BOATYARD CLASSICS
SIZZLING GARLIC STEAK
Prime sirloin, roasted potato rounds, cipollini onions, blistered tomatoes, roasted garlic sauce $19.95
SEAFOOD FRA DIAVOLO
Jumbo shrimp, calamari, half lobster tail, spicy arrabiata, toasted capers, linguine $21.95
LOBSTER LOLLIPOPS
Twin shrimp & lobster skewers, fresh vegetable, rice $24.95
WOOD-FIRED CHICKEN PASTA
Cavatappi pasta, smoked Gouda, spinach, broccoli, onions, peppers, tomatoes $15.95
GEORGIA PEACH GRILLED CHICKEN
Sweet potato mash, peach chutney, fresh vegetable $16.95
SCALLOP STUFFED SHRIMP
Gulf shrimp, white wine sauce, bay scallop cornbread stung, grilled asparagus $18.95
LEMON GARLIC SHRIMP & GRITS
Jumbo shrimp, cheese grits, crispy bacon, scallions $18.95
PAN ROASTED BLACK COD
Garlic roasted potatoes, grilled asparagus, lemon olive oil sauce $18.95
FRESH FISH FRY
Seasoned fries, cole slaw, tartar $16.95
EGGPLANT ARRABIATA
Panko crusted eggplant, arrabiata sauce, provolone, mozzarella, Parmesan, pasta $14.95
$11.95
GEORGIA PEACH CHICKEN
WOOD-FIRED CHICKEN PASTA
LOADED SHEPHERD'S PIE
SOUP & SLIDER
$14.95
MAKER'S MARK SIRLOIN
LOBSTER & SHRIMP MAC & CHEESE
PAN ASIAN TUNA
NAKED GRILLED SALMON
MAHI MAHI TACOS

Ancho-citrus slaw, pico de gallo, avocado cream $13.95
LOBSTER & SHRIMP SLIDERS
Lightly dressed lobster & shrimp, griddled roll $14.95
THE IMPOSSIBLE BBQ BURGER
(Plant based burger for those who like the taste of meat) Spicy BBQ sauce, cheddar, onion rings, lettuce, tomato $11.95
GUTENBERGER

NY sharp cheddar, bacon, frizzled onions, Creole ketchup $13.95
PASTRAMI BURGER

Sliced pastrami, horseradish cream sauce, pickles, Swiss cheese, marble rye $13.95
THE "MAC & CHEESE" BURGER

Bacon, crispy mac & cheese, caramelized onion, BYG burger sauce, lettuce, tomato $13.95
NY CHEDDAR BURGER

Vine-ripened tomato, shredded lettuce, red onion $12.95
ITHACA BURGER

Black bean burger, mixed greens, pico de gallo, chipotle aioli $10.95
ALL HANDHELDS SERVED WITH SEASONED FRIES
Sweet Potato Fries $1
Gluten Free Bun $2



from our wood-fired grill
SIGNATURE SIDES $5
Parmesan Herb Steak Fries
Roasted Brussels Sprouts
Spinach & Artichoke Stuffed Baked Potato
Sautèed Mushrooms

Shareables
BUFFALO CHICKEN EGGROLLS
Served with Bleu cheese dressing and celery $10.95
CRAB CAKES
Charred onion remoulade, old bay chips $11.95
SPINACH & ARTICHOKE FONDUE
Served with corn tortilla chips $9.95
COCONUT SHRIMP
Sweet chili-lime glaze, fresh cilantro $11.95
MARGHERITA FLATBREAD
Plum tomatoes, fresh mozzarella, basil $8.95
HUMMUS & GRILLED PITA
Peppadews, toasted pecans, kalamata olives $9.95
FRIED FRESH CALAMARI
Arrabiata, chipotle aioli, fresh lemon $13.95
Salads & Soups
CLAM CHOWDER
Cup $3.95 / Bowl $5.95
FIVE ONION SOUP
$5.95
ROASTED BEET SALAD
Spicy cabernet glaze, Lively Run goat cheese, mixed greens, sunower seeds $10.95
COBB
Mixed greens, roasted corn, tomato, avocado, blue cheese, egg, bacon, tarragon vinaigrette $12.95
CAYUGA CRUNCH
Color crunch kale, chopped walnut, red onion, NY sharp cheddar, cinnamon crisp apple, red grapes, maple vinaigrette $11.95
CAESAR
Toasted croutons, shredded Parmesan $5.95/$9.95
ICEBERG WEDGE
Crispy bacon, creamy blue cheese dressing $5.95
MIXED GREENS
$5.95

ADD CHICKEN $3 OR

SHRIMP $5
MAHI MAHI TACOS

Ancho citrus slaw, pico de gallo, avocado cream $13.95
LOBSTER & SHRIMP SLIDERS
Lightly dressed lobster & shrimp, griddled roll $14.95
THE IMPOSSIBLE BURGER
(Plant based burger for those who like the taste of meat) Spicy BBQ sauce, cheddar, onion rings, lettuce, tomato $11.95
THE GUTENBERGER

NY sharp cheddar, bacon, frizzled onions, Creole ketchup $13.95
PASTRAMI BURGER

Sliced pastrami, horseradish cream sauce, Swiss cheese, pickles, marble rye $13.95
THE "MAC & CHEESE" BURGER

Bacon, crispy mac & cheese, caramelized onion, BYG burger sauce, lettuce, tomato $13.95
NY CHEDDAR BURGER

Vine-ripened tomato, shredded lettuce, red onion $12.95
ITHACA BURGER

Black bean burger, mixed greens, pico de gallo, chipotle aioli $10.95
CABO CHICKEN CLUB

Bacon, NY sharp cheddar, pico de gallo, lettuce, red onion, avocado aioli $12.95
FISH SANDWICH
Deep-fried, lettuce, tomato, red onion $9.95

from our wood-fired grill
ALL HANDHELDS SERVED WITH SEASONED FRIES
SWEET POTATO FRIES $1 GLUTEN FREE BUN $2
PAN ASIAN TUNA
Mushroom ginger broth, sesame-roasted mushrooms & peppers, spinach, sticky rice $14.95
GRILLED SALMON

Olive oil, lemon, rice, fresh vegetable $14.95
MAKER'S MARK SIRLOIN

Bourbon sauce, mashed potatoes, fresh vegetable $14.95
WOOD-FIRED CHICKEN PASTA

Cavatappi pasta, smoked Gouda, spinach, broccoli, onions, peppers, tomatoes $10.95
EGGPLANT ARRABIATA
Panko crusted eggplant, arrabiata sauce, provolone, mozzarella, Parmesan, pasta $9.95
LOADED SHEPHERD'S PIE
Steak tips, vegetables, stout gravy, mashed potatoes, bacon, cheddar cheese $11.95
GEORGIA PEACH GRILLED CHICKEN

Sweet potato mash, peach chutney, fresh vegetable $10.95
FRESH FISH FRY
Seasoned fries, cole slaw, tartar $10.95
LEMON GARLIC SHRIMP & GRITS
Jumbo shrimp, cheese grits, crispy bacon, scallions $11.95
SOUP & SLIDER
Bowl of our famous New England clam chowder served with a lobster & shrimp slider $14.95
Brunch Favorites $8.95
Cast-Iron Corned Beef Hash:
Homemade corned beef & potato hash topped with two eggs your way & citrus hollandaise.
Classic Eggs Benedict:
Toasted English Muffin, grilled Canadian bacon and two poached eggs topped with citrus hollandaise.
French Toasted Bread Pudding:
Topped with maple-caramel syrup, bananas and toasted granola.
Chicken & Biscuits:
Served with two eggs your way and fresh herb velouté.
Bangers & Mash
Classic grilled country sausage over home-style garlic mashed potatoes with brown gravy & bacon jam.
Signature Omelets & Eggs $9.95
Served with home fries or fresh fruit
The Veggie:
Sautéed baby spinach, broccoli, tomato, onion, bell peppers, mushrooms and local feta cheese.
Happy Ham:
Sliced Black Forest ham & N.Y. State sharp cheddar.
BoatYard Breakfast:
Two eggs your way, sour dough toast, Maple link sausage and home fries.
Cocktail Highlights
Big Red Bloody Mary:
25oz sports mug of our classic, spicy bloody Mary, trimmed with celery, salted rim, olive and lemon/lime.
Elderflower Mimosa:
St. Germain liqueur and Brut Champagne chilled and served "up".
Huckleberry Lemonade:
North 44 Vodka and fresh lemonade served on the rocks.
Irish coffee:
Jameson Irish Whiskey & Coffee.