SHAREABLES
SPICY TUNA ROLL
Hand rolled sushi $14
BUFFALO CHICKEN EGGROLLS
Served with bleu cheese dressing and celery $14
SPINACH & ARTICHOKE FONDUE
Served with corn tortilla chips $13
COCONUT SHRIMP
Sweet chili-lime glaze, fresh cilantro $13
FRIED CALAMARI
Arrabiata, chipotle aioli, fresh lemon $16
SHRIMP COCKTAIL
Cocktail sauce, fresh lemon $13
Salads & Soups
CLAM CHOWDER
Cup $4 / Bowl $6
FIVE ONION SOUP
$6
ROASTED BEET
Spiced cabernet glaze, Lively Run goat cheese, mixed greens, sunflower seeds $14
CAESAR
Toasted croutons, shredded parmesan $7 / $11
ICEBERG WEDGE
Crispy bacon, creamy blue cheese dressing $7
MIXED GREENS
$6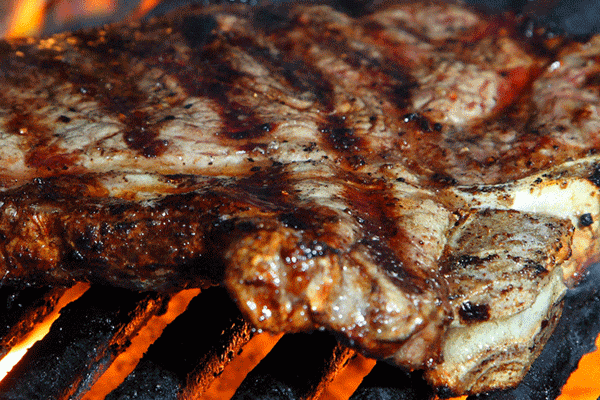 MAKER'S MARK SIRLOIN
Bourbon sauce, onion ringlets $28
FILET MIGNON
Horseradish cream sauce $37
NY STRIP
Housemade Worcestershire sauce $33
ALL STEAKS SERVED WITH ROSEMARY ROASTED POTATOES & FRESH VEGETABLE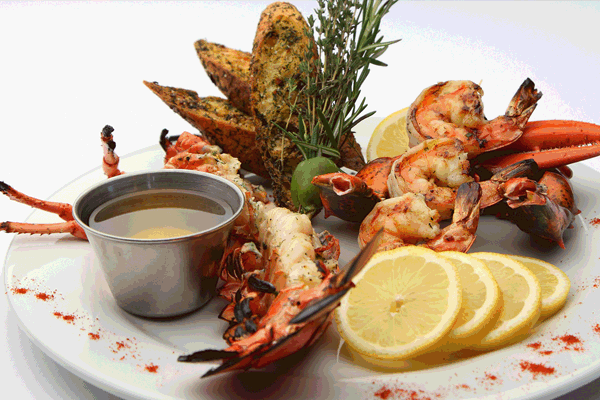 SEAFOOD
SALMON $26
HALIBUT $25
CHOOSE ANY PREPARATION
MANGO SALSA
Baby bok choy, mango-sriracha sauce, seasoned rice
PAN ASIAN
Mushroom ginger broth, sesame-roasted mushrooms & peppers, spinach, sticky rice
GO NAKED
Olive oil, lemon, fresh herbs, rice, fresh vegetable
BOATYARD CLASSICS
SEAFOOD FRA DIAVOLO
Jumbo shrimp, calamari, bay scallops, spicy arrabiata, toasted capers, linguine $24
WOOD-FIRED CHICKEN PASTA
Cavatappi pasta, smoked Gouda, spinach, broccoli, onions, peppers, tomatoes $17
SIZZLING GARLIC STEAK
Prime sirloin, Cipollini onions, blistered tomatoes, roasted garlic sauce $28
GEORGIA PEACH GRILLED CHICKEN
Sweet potato mash, peach chutney, fresh vegetable $18
FRESH FISH FRY
Seasoned fries, cole slaw, tartar $18
STUFFED SHRIMP
Gulf shrimp, crab stuffing, fresh vegetable, white wine sauce $23
GEORGIA PEACH GRILLED CHICKEN - $12
WOOD-FIRED CHICKEN PASTA - $12
NAKED GRILLED SALMON - $15
MAKER'S MARK SIRLOIN - $16

FRESH FISH TACOS

Cabbage, pico de gallo, avocado cream, chihuahua cheese $16
THE IMPOSSIBLE BURGER
(Plant based burger for those who like the taste of meat) Cheddar, onion rings, lettuce, tomato jam $16
GUTENBERGER

NY sharp cheddar, bacon, frizzled onions, Creole ketchup $16
NASHVILLE CHICKEN SANDWICH

Spicy buttermilk fried chicken, bread & butter pickles, creamy chipotle herb sauce $15
NY CHEDDAR BURGER

Vine-ripened tomato, shredded lettuce, red onion $15
ALL HANDHELDS SERVED WITH SEASONED FRIES

Sweet Potato Fries $3
Gluten Free Bun $2



from our wood-fired grill
Note: takeout orders incur a $.50 charge per item for our strong, reusable & recyclable containers.

Shareables
BUFFALO CHICKEN EGGROLLS
Served with Bleu cheese dressing and celery $10.95
CRAB CAKES
Lemon garlic sauce, herb salad $11.95
SPINACH & ARTICHOKE FONDUE
Served with corn tortilla chips $9.95
COCONUT SHRIMP
Sweet chili-lime glaze, fresh cilantro $11.95
MARGHERITA FLATBREAD
Plum tomatoes, fresh mozzarella, basil $8.95
HUMMUS & GRILLED PITA
Peppadews, toasted pecans, kalamata olives $9.95
FRIED FRESH CALAMARI
Arrabiata, chipotle aioli, fresh lemon $13.95
Salads & Soups
CLAM CHOWDER
Cup $3.95 / Bowl $5.95
FIVE ONION SOUP
$5.95
ROASTED BEET SALAD
Spicy cabernet glaze, Lively Run goat cheese, mixed greens, sunower seeds $10.95
COBB
Mixed greens, roasted corn, tomato, avocado, blue cheese, egg, bacon, tarragon vinaigrette $12.95
CAYUGA CRUNCH
Color crunch kale, toasted pecans, sunower kernels, strawberries, blueberries, green onion-cider vinaigrette $11.95
CAESAR
Toasted croutons, shredded Parmesan $5.95/$9.95
ICEBERG WEDGE
Crispy bacon, creamy blue cheese dressing $5.95
MIXED GREENS
$5.95

ADD CHICKEN $3 OR

SHRIMP $5
SWORDFISH TACOS

Cabbage, pico de gallo, avocado cream, chihuahua cheese $14.95
LOBSTER & SHRIMP SLIDERS
Lightly dressed lobster & shrimp, griddled roll $14.95
THE IMPOSSIBLE BURGER
(Plant based burger for those who like the taste of meat) Cheddar,onion rings, lettuce, tomato $12.95
THE GUTENBERGER

NY sharp cheddar, bacon, frizzled onions, Creole ketchup $13.95
PASTRAMI BURGER

Sliced pastrami, horseradish cream sauce, Swiss cheese, pickles, marble rye $13.95
THE "MAC & CHEESE" BURGER

Bacon, crispy mac & cheese, caramelized onion, BYG burger sauce, lettuce, tomato $13.95
NY CHEDDAR BURGER

Vine-ripened tomato, shredded lettuce, red onion $12.95
ITHACA BURGER

Black bean burger, mixed greens, pico de gallo, chipotle aioli $10.95
CABO CHICKEN CLUB

Bacon, NY sharp cheddar, pico de gallo, lettuce, red onion, avocado aioli $12.95
FISH SANDWICH
Deep-fried, lettuce, tomato, red onion $10.95

from our wood-fired grill
ALL HANDHELDS SERVED WITH SEASONED FRIES
SWEET POTATO FRIES $1 GLUTEN FREE BUN $2
PAN ASIAN TUNA
Mushroom ginger broth, sesame-roasted mushrooms & peppers, spinach, sticky rice $14.95
GRILLED SALMON

Olive oil, lemon, rice, fresh vegetable $14.95
MAKER'S MARK SIRLOIN

Bourbon sauce, roasted potatoes, fresh vegetable $14.95
WOOD-FIRED CHICKEN PASTA

Cavatappi pasta, smoked Gouda, spinach, broccoli, onions, peppers, tomatoes $10.95
EGGPLANT ARRABIATA
Panko crusted eggplant, arrabiata sauce, provolone, mozzarella, Parmesan, pasta $9.95
GEORGIA PEACH GRILLED CHICKEN

Sweet potato mash, peach chutney, fresh vegetable $10.95
FRESH FISH FRY
Seasoned fries, cole slaw, tartar $10.95
LEMON GARLIC SHRIMP & GRITS
Jumbo shrimp, cheese grits, crispy bacon, scallions $11.95
SOUP & LOBSTER SLIDER
Bowl of our famous New England clam chowder served with a lobster & shrimp slider $14.95
Brunch Favorites $8.95
Cast-Iron Corned Beef Hash:
Homemade corned beef & potato hash topped with two eggs your way & citrus hollandaise.
Classic Eggs Benedict:
Toasted English Muffin, grilled Canadian bacon and two poached eggs topped with citrus hollandaise.
French Toasted Bread Pudding:
Topped with maple-caramel syrup, bananas and toasted granola.
Chicken & Biscuits:
Served with two eggs your way and fresh herb velouté.
Bangers & Mash
Classic grilled country sausage over home-style garlic mashed potatoes with brown gravy & bacon jam.
Signature Omelets & Eggs $9.95
Served with home fries or fresh fruit
The Veggie:
Sautéed baby spinach, broccoli, tomato, onion, bell peppers, mushrooms and local feta cheese.
Happy Ham:
Sliced Black Forest ham & N.Y. State sharp cheddar.
BoatYard Breakfast:
Two eggs your way, sour dough toast, Maple link sausage and home fries.
Cocktail Highlights
Big Red Bloody Mary:
25oz sports mug of our classic, spicy bloody Mary, trimmed with celery, salted rim, olive and lemon/lime.
Elderflower Mimosa:
St. Germain liqueur and Brut Champagne chilled and served "up".
Huckleberry Lemonade:
North 44 Vodka and fresh lemonade served on the rocks.
Irish coffee:
Jameson Irish Whiskey & Coffee.